Conforzi Lake House is a self catering lake shore unit comprising of one main house and a smaller cottage situated approximately 10 km north of Club Makokola and it is one of the older houses on the lake. It is built on a large plot and has been in the Conforzi family from 1958.The house was extensively refurbished a few years ago. It has a beautifully manicured beach overlooking Boa Dzulu Island. The beauty of the garden consists of ancient baobabs and other huge trees under which one can sit and admire the beautiful view and soak in the lake atmosphere.
 STAFF - House attendants: Mquanda and Rabson are responsible for cleaning the house, laundry and assisting guests in the kitchen. Please note that they are not chefs but can assist with meal preparation and are capable of producing some simple Italian meals on their own.  2 x Garden staff and 3 x Night watchmen.
ACCOMMODATION - Maximum 13 guests in the main house and 4 in the small cottage.
MAIN HOUSE:
Bedroom 1 – king size bed, mosquito net, ceiling fan, en-suite bathroom with bathtub and shower.
Bedroom 2 – king size bed, mosquito net, ceiling fan en-suite bathroom with shower.
Bedroom 3 – small bedroom with 2 single beds, mosquito nets, ceiling fan. Bathroom with shower shared with room 4.
Bedroom 4 – small bedroom with 2 single beds, mosquito net, ceiling fan. Bathroom with shower shared with room 3.
Bedroom 5 – 2 single beds, mosquito nets, shared bedside table, ceiling fan, shared bathroom with bathtub and shower shared                    with room 6.
Bedroom 6 – king-size bed plus 1 single bed, mosquito nets and ceiling fan. Shared bathroom with room 5.
COTTAGE:
Bedroom 1 – king size bed, mosquito net. Small bathroom shower only, shared with room 2.
Bedroom 2 – 2 single beds, mosquito net. Small bathroom shower only, shared with room 1.
The cottage also has a lounge, a "tiny" kitchenette and a veranda with a lovely view of the lake. Being 50 meters away from the shore it is generally well aerated by the lake breeze.
MOSQUITO NETS – There are mosquito nets. Please keep the doors closed, and you will find with the gauze on the windows and a spray of doom the mosquitoes will be kept at bay.
LINEN AND TOWELS - Linen and towels are supplied for each room.
CUPBOARDS – All rooms have cupboards and bedside tables.
PLUMBING – Conforzi lake house is a very old house – the plumbing has been redone, but there are still some problems regarding the time lag for the hot water to reach some areas of the house. Water for showers, geysers etc is pumped directly from the lake. 1 hot water geysers feeds the house and 1 the cottage they may take time for water to run through but there should be sufficient hot water for a full house, assuming escom is playing along.
KITCHEN & CATERING FACILITIES – There is a large kitchen with 2 fridges each with a section of freezer. It has a large electric stove and a large gas stove (when gas is available in Malawi) and 2 small but very efficient wood fired "mbaula" when nothing else works.  There is also an outside braai which is ideal in cooking fresh lake fish. You can buy both the fish and the charcoal locally
The cottage has a full selection of good quality crockery and cutlery as well as glasses and a good selection of kitchen equipment including pots, pan, kitchen utensils, casserole dishes and serving platters.
POWER – There will be times when ESCOM does not supply power. Fortunately we do have a backup generator but consider the environment before turning it on, you could enjoy a romantic candlelight atmosphere until the power returns, but if not please tell the staff to turn it on. Below are the conditions of its use:
GENERATOR
How to operate the generator:
Please note: There may be Diesel left there by the previous guest but we cannot be responsible for the continual refuelling of it, so be prepared to buy Diesel if you intend to use the generator. There is a container at the Lake House you can use if you do not bring your own to fill with Diesel. Only Diesel purchased from a filling station will be accepted and please make sure the container is clean with no dirt/sand or water in it before filling. Although the operation of the generator is done only by the staff, in the event that the client takes it upon him/herself to do so the below is the correct way for its operation and any deviation from it and any damage caused to the generator/ house or injury to the person will not be the owners responsibility. Furthermore any damage to the generator or house resulting to the incorrect manner of the generators operation by the client will be for his/hers account.

Start Up:
Check engine oil before every start up
Make sure there is enough diesel (if it runs out it will airlock and be a problem on start up again)

Turn off Main Switch in the House Distribution Board – IMPORTANT

Turn off hot water geyser

Plug in electrical cord at the wall (cooker outlet socket in the kitchen) and at the Generator

Make sure the main switch at the generator is in the off position (covered in plastic sheath)

Turn Generator key on the "on" position

Turn key to engine crank until engine starts. If it cranks more than 10 seconds, stop and let starter motor cool down for 5 minutes and try again.

Once engine has started let it settle until it is running smoothly, check that the voltage reading on the display panel is reading between 220 volts to 230 volts.

Turn on ("up") the generator power supply switch (covered in plastic sheath)

Power should come on in the house.
Note:
Shut Down: (When ESCOM has resumed) This is known by the lights coming on at the next door cottages
Turn off power supply switch at the generator (covered in plastic sheath)

Unplug electrical cable at the generator and wall socket in the house

Turn off generator

Turn on Main Switch at the House Distribution Board

Turn on hot water geyser
Note:
Main Switch at the House Distribution Board must always be turned off when the generator is running.
SATELLITE TV – DSTV, Unfortunately Multichoice does not allow us to connect to DSTV on demand so it means that we have to
pay its subscription for the entire month when the cottage is mostly used for weekends and public holidays.
Should you want DSTV it is recommended that you bring your own decoder and plug into the satellite dish cable            that is permanently fixed at the Lake House, there is also a flat screen TV for your use. For international visitors who are unable to provide your own decoder and wish to have DSTV then please let us know well in advance so that we can arrange for a decoder, please note though there will be an extra charge on the Lake Cottage rates which will basically be for the entire months subscription.   

OTHER STUFF – Water is not drinkable, do not forget to bring bottled water with you.
Please instruct the staff when you want your room cleaned, if you close your room they might think you don't want them to intrude. Bear in mind that if all the rooms are occupied they will need a fair amount of time to clean them all.
WHAT TO BRING - All food stuffs. Salt, pepper, tea, coffee etc / Toiletries / Toilet roll / peaceful sleep / doom / charcoal/ And of course your swimming costume and relaxation on your mind
INDEMNITY – Although there is security personal in place and the staff of the Conforzi Cottage will have the guest's interest at heart at all times, it is the guest responsibility to ensure that the house is locked prior to turning in for the night and that all valuables are kept in a safe place. Please do not leave personal belongings outside at night. The Management, staff and associates of The Conforzi Cottage cannot be held liable for any personal loss or damage whatsoever.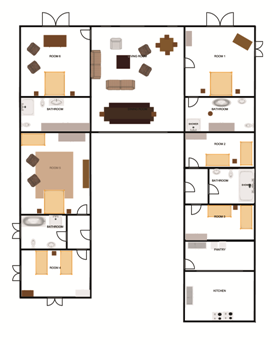 PAYMENT IS TO BE MADE BEFORE GUESTS CHECK IN OR PLEASE CONTACT OUR OFFICE
WE WELCOME FEEDBACK SO WE CAN FIX THINGS - TELL YOUR FRIENDS IF YOU HAVE A GREAT TIME, TELL US IF YOU HAVE A PROBLEM